Location de véhicules & Transports, Boats, Yatch in Provence
Register your touristic spot in Provence it's free (in French)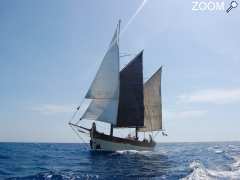 VIARD
PORT DE TOULON
83000 Toulon (Var)
The JLD'A can accommodate groups up to 27 people. The JLD'A is an old 23-metre rig based at the wharf of honour from the Port of Toulon.
Classified heritage boat, the JLD'A will charm you with its ...

Sylvain
19 Avenue Frédéric Mistral
06000 Nice (Alpes Maritimes)
Phone : 09 51 49 84 51
- Mobile phone : 06 86 14 49 33
Boat rental for the day to the weekend or week, ride departing from Nice and port-Saint-Laurent, Alpes-maritimes.
Come browse the crystalline waters of the cote d'azur.
Ideal for - discovery of the ...

Register your touristic spot in Provence it's free (in French)