Heritage, visit, Park and garden in Provence
Parks and Gardens

Completed for the nature lovers, parks, flowery gardens, kitchen gardens and arboretums plunge you into a case of greenery for a walk of the most soothing.

Observe, smell, touch your senses are on the alert! Take advantage of the inexhaustible wealth of the vegetable world.
Register your touristic spot in Provence it's free (in French)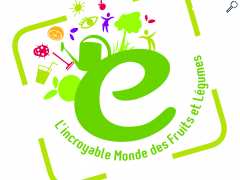 Low season of 5€ to 7€

Average season of 5€ to 7€

High season of 5€ to 7€

School holidays of 5€ to 7€
Mme Sylvie Fayard
Cité de l'alimentation, rue Pierre Bayle
84000 Avignon (Vaucluse)
Welcome to the unbelievable world of fruits and vegetables....

Epicurium is a new playful and cultural way to discover fruits and vegetables under all their forms...

Pauline Grison
100 ruePierre Bayle
84000 Avignon (Vaucluse)

Pauline Grison
100 rue Pierre Bayle
84000 Avignon (Vaucluse)

Register your touristic spot in Provence it's free (in French)